Singapore's educational system provides a world – class education for its students be it, local Singaporeans or international students.  Singapore's excellent and well sorted framework has guided Singapore to becoming a "Global Schoolhouse" offering a diverse and distinctive mix of educational services in a safe, cosmopolitan and comfortable environment. In order to study in Singapore it is extremely important to understand the education system of Singapore.  For your convenience we have simplified it for your better understanding.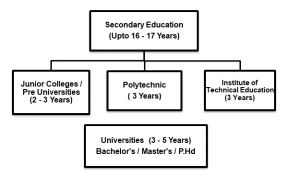 Currently, Singapore's education sector is branched out into two major divisions – Public and Private Universities. The six local universities in Singapore – the National University of Singapore (NUS), the Nanyang Technological University (NTU), the Singapore Management University (SMU), the Singapore University of Technology and Design (SUTD), the Singapore Institute of Technology (SIT), and the SIM University (UniSIM) – offer specialized courses across diverse disciplines. Specialized institutions have also sprung up, both local and international. The courses offered range from certificate to postgraduate levels. Through partnership with renowned international universities from various countries such as Singapore, UK and USA, private schools offer students the opportunity to attain international certification in Singapore's comfortable and affordable environment.
To ensure that the private schools in Singapore safeguard student's interests and welfare through high quality and regulatory standards, Singapore has put in place an Education Excellence Framework, consisting of two key initiatives:
Case Trust for Education,
was launched by the Consumer Association of Singapore (CASE) for Private Education Organizations (PEOs). The scheme ensures good quality student welfare / protection practices and standards. Since 2005, only PEOs who have obtained the Case Trust for Education status are allowed to admit international students in their programs in Singapore
Singapore Quality Class for Private Education Organizations (SQC_PEO)
is administered by SPRING Singapore. The SQC_PEO scheme serves as the industry standard for organisation excellence in the private education sector.
Study in Singapore
Master's In Singapore:
The Private Institutes offers degree in partnership with popular universities from countries such as US, UK an Singapore. These universities confer the degree and certification. Hence, private institutes provide students with the opportunity to attain qualifications from these foreign universities whilst studying in Singapore's affordable and comfortable environment. The admission requirement differs from Institute and programmes offered. The duration for Master in private institutes may range from 12 months to 16 months. The GMAT, GRE Scores are not compulsory for admission – again subjective to a particular Institute. The various Master degree are MA, MS, MBA, MFA etc. Generally, an applicant must have atleast a good bachelors degree and two years work experience. In addition, an applicant whose native language or medium of instruction for the bachelors degree is not english must have a good TOEFL score or IELTS score.
Bachelor's in Singapore:
The Private Institutes offer bachelors degree programs in almost every subject. The duration of the bachelors course is 3 years to 4 years. The admission requirements vary from program to program. The SAT, TOEFL and IELTS are not compulsory for admission. The students completed their 12th or 11th Std. or equivalent to Singapore A level can apply for the bachelor degree in Private institutes.
Diploma in government Polytechnics in Singapore:
A polytechnic education gives you hands-on experience within a dynamic and progressive learning environment. There are five polytechnics in Singapore offering market-driven courses, which lead students to fulfilling careers, as well as preparing them for further studies. The five are: Nanyang Polytechnic (NYP), Ngee Ann Polytechnic (NP), Republic Polytechnic (RP), Singapore Polytechnic (SP) and Temasek Polytechnic (TP). Specialised courses such as Optometry, Marine Engineering, Nautical Studies, Nursing, Early Childhood Education and Film are also available for those who wish to forge a specific career path. All courses are conducted in the English medium and follow a credit accumulation modular system that allows students to pursue and complete their courses at their own pace. Under the system, students will take a prescribed set of modules and accumulate credit units for those modules they have passed. Modules are assessed immediately upon completion of the required academic work in a semester.
It takes 3 years to complete a full-time diploma course. Students that have completed class 10 or 12 in India are eligible for polytechnic courses.